God Is In Charge
The picture that you see here is not a current one.  By that I mean it is not today's image.  It is on that was taken almost two
weeks ago and it is a very dramatic image for sure.  Her name is Bernadette Sanchez and she is the youngest of my grandchildren,  I continue to write about her because he fight to remain with us here is an inspiring one.  She had cancer and while the surgery removed it she was discovered to have a defective gene.  This defect probably caused the cancer and this defect probably caused her to go into septic shock.  It was so severe that when the surgery was completed it was suggested that her parents contact a priest.
Yes, she was at death's door.  This fourteen month old baby, during her brief existence, has endured trauma then most people will endure in a life time.  So where is God at this point?  Why hasn't He answered the prayers of the thousands that have been made on her behalf.  Yes, I said thousands of people who have lifted her plight up to our merciful Father.  I believe that the voices that continue to be raised have not fallen on deaf ears.  God is listening and hears each one of our cries to Him.
Here is what has happened. She is no longer on a ventilator and has been able to be returned to her mother's anxious
arms.  You can see by my daughter, Kate Sanchez, expression that she has seen cause to smile.  God teaches us much at times like these and to see the strength of this person who is confident that God will do the right thing.  She know that whatever the outcome that God has been with her through this ordeal.
I wish that everyone had a chance to speak with her.  You would understand how right it is to trust in our God.  He will not forsake us.  That does not mean that He will give want we want because there are times when what we want is not what is best for all concerned.  I find it amazing that God can take a situation with hundreds if not thousands involved and orchestrate a perfect solution for all involved.  Can I see the perfection?  Not really.  Can I see glimpses of the effects?  Yes, if I take the time to look and study and not wallow in the emotions and pain of the moment, which I have been known to do from time to time.
Our God has seen us suffer through the ages.  He has watched us turn our backs on Him countless times.  His faithfulness endures and His willingness to forgive us gives us a true definition of the word 'patience'.  It is that patience that we must cling to as we watch Bernadette cover and wonder why she is not there yet.  Look at her face and see the frown.  She more than anyone wants to be better.  Bee wants to be able to sit in her mother or father's arms and feel protected and safe.  It is what we all want for her and ourselves.  We want to see the smile that has crept back on to my daughter's face for a fleeting moment to also return to Bernadette's face too.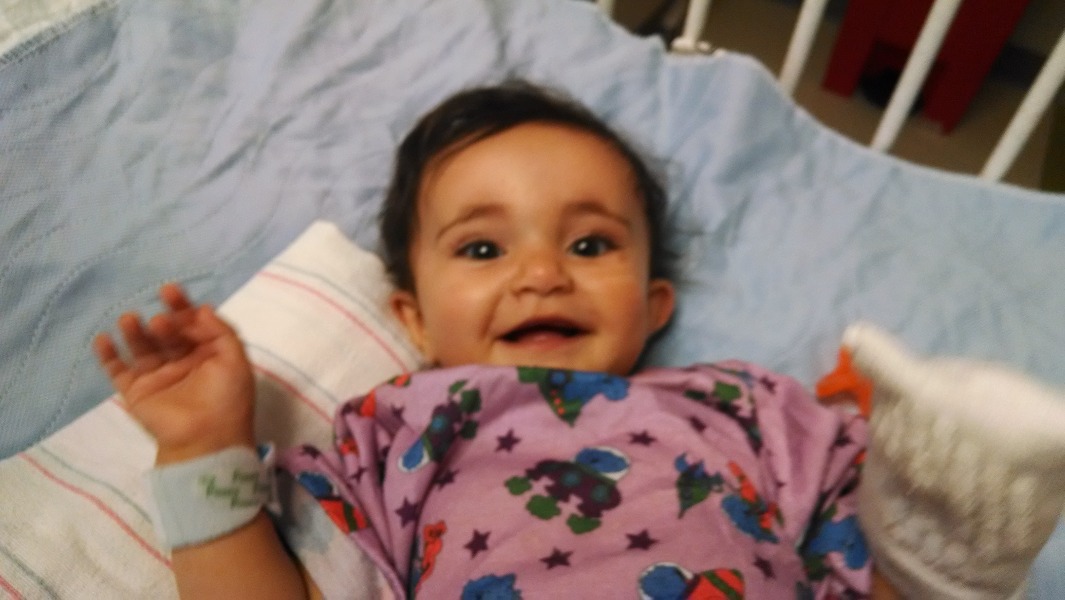 I ask all that read this that they take a moment and speak to our God.  He listens and care.  After all He paid a terrific price just to give us the opportunity to speak to Him.  May the Lord bless you and keep you, may His face shine upon you and give you peace!